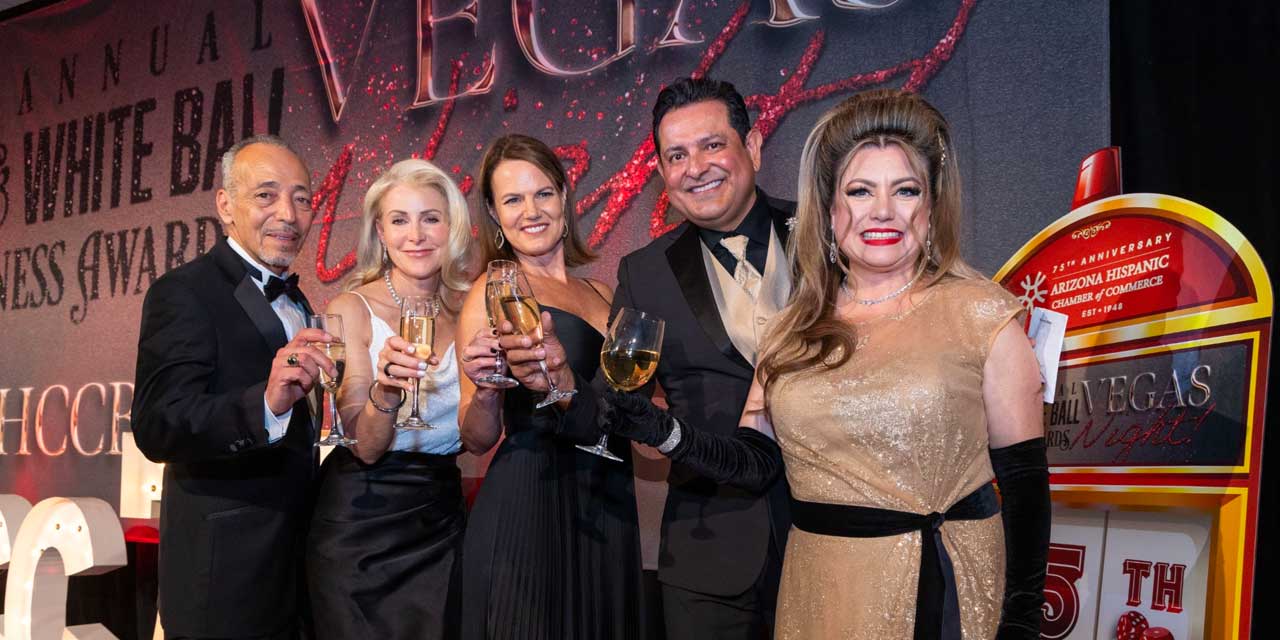 Equality Health Foundation Assists in Raising $100,000 for Graduate Scholarships
Arizona Hispanic Chamber of Commerce Scholarship Fund Supports Diversity in Healthcare
PHOENIX, Ariz. – Equality Health Foundation and Equality Health LLC helped raise $100,000 at this year's annual Black & White Ball hosted by the Arizona Hispanic Chamber of Commerce (AZHCC) to support graduate level scholarships for Hispanic students pursuing advanced degrees in healthcare. The Tony & Milena Astorga EXITO Scholarship Fund provides a one-time scholarship in the amount of $10,000 to those awarded to assist them in their pursuit of continued healthcare education. The scholarship will be administered through the Arizona Community Foundation with mentoring and coaching support by Education Forward Arizona.  
"With just 7% of all physicians and surgeons and 9% of all healthcare practitioners being of Hispanic heritage, there is a substantial disparity in diverse providers and culturally competent healthcare," said Tomás León, president of Equality Health Foundation. "As part of Equality Health Foundation's commitment to accelerating health education, we are proud to partner with the AZHCC to provide additional resources and opportunities for scholars who wish to make a positive impact in the healthcare field. This contributes to building a healthy workforce and thriving businesses." 
Equality Health Foundation and Equality Health LLC are the seed funders for the AZHCC Astorga EXITO Scholarship Fund to honor Tony and Milena Astorga's service to the community. Mr. Astorga retired from Blue Cross Blue Shield of Arizona after serving 23 years as the senior vice president & CFO. He is currently the owner and principal of AZTOR Health Management Strategic Advisors where he remains a consultant and advisor to a variety of organizations. Mr. Astorga continues his service on numerous boards, including the AZHCC and Equality Health Foundation. 
"It is incredibly impactful to provide scholarship resources that empower Hispanic students to pursue graduate studies in healthcare," said President and CEO of AZHCC Monica Villalobos. "Arizonans who pursue education after high school experience higher lifetime earnings, better health, and more economic opportunities that can lead to more than $5 billion in economic gains for Arizona each year.
Equality Health Foundation has helped raised over $200,000 for the Astorga EXITO Scholarship Fund in the last two years. Additionally, Equality Health Foundation participates in collaborations with Northern Arizona Healthcare Corporation and Arvizu Charities to provide additional scholarship resources to undergraduate students from underrepresented communities pursuing advanced education in the healthcare field. 
For more information on Equality Health Foundation, please visit https://www.equalityhealthfoundation.org.
About Equality Health Foundation
Established in 2019, Equality Health Foundation envisions a world of vibrant and inclusive communities where all individuals have the opportunity to live healthy lives. A bold vision like this cannot be accomplished alone and requires extensive collaboration across local communities around the country to make a sustainable and transformative change—a movement for advancing equal health for all.
About Arizona Hispanic Chamber of Commerce
Founded in 1948, the Arizona Hispanic Chamber of Commerce is the premier advocate for the state's Hispanic-owned businesses and more than 2 million Hispanic consumers. Our organizations is dedicated to promoting the economic health and prosperity of the state and nation by serving as a vital link to the growing influence of the Hispanic community in our increasingly diverse and global marketplace.
Media Contact
Jennifer Howard
Phone: 480.438.1602
Email: jhoward@evolveprandmarketing.com