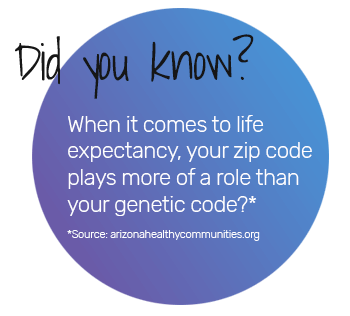 Overcoming Disparities.
Leading Healthier Lives.
Health disparities are merely the symptoms of a society in which there is unequal access to the essential components for good health. These include access to quality healthcare, education, employment, stable housing, and a secure source of nutritious food.
Given the link between socioeconomic factors and health, low-income individuals and communities often face greater challenges in leading healthy lives. These challenges may include unstable housing situations, difficulty paying utility bills, a lack of nearby grocery stores to purchase healthy foods, and inadequate transportation, food insecurity, or violence in the home or in personal relationships.
Our community assessment data at the neighborhood level helps uncover disparities, set common goals for improvement, and deliver community-driven solutions. We collaborate with a diverse coalition of partners to eliminate these barriers, and foster communities where healthy living is possible for everyone.