Equality Health Foundation Sponsors Well-Child & Back to School Drives
Backpacks and School Supplies Distributed to Arizona and Texas Students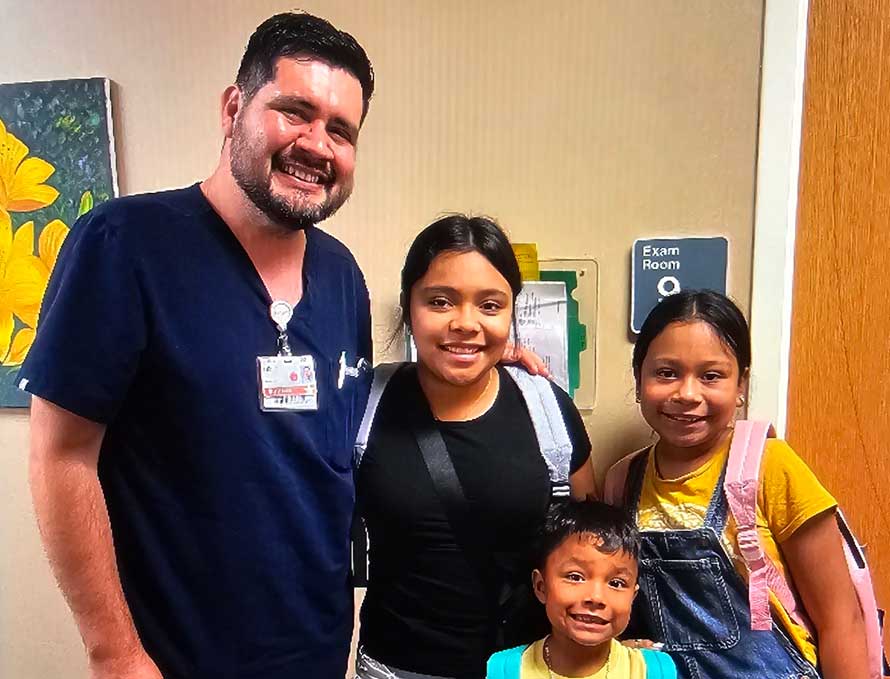 PHOENIX, AZ – Equality Health Foundation, in partnership with Mercy Care, UnitedHealthcare, Aetna, Arizona Department of Health Services, and community partners distributed over 3,600 backpacks, school supplies and health and well-being resources to students in advance of the new school year. Pediatric primary care practices in Arizona and Texas participated in the drive, helping to prepare students for a healthy and prosperous academic year.
"In order to reach their full potential, students need to have equal access to comprehensive health care and well-being resources," said Tomás León, Equality Health Foundation President. "In addition to their annual well-child visits, children in our community need school supplies, backpacks and other essentials for a successful school year."
Equality Health Foundation is a nonprofit organization that aims to level the healthcare playing field in culturally diverse and underserved communities. The organization works to expand access to care, accelerate health education, and eliminate healthcare inequalities.
Made possible with the support of Mercy Care, UnitedHealthcare, Aetna, Herozona Foundation, Grant Park Barrio Youth Project, Inc. and Arizona Hispanic Chamber of Commerce, Equality Health Foundation organized multiple drives benefiting the patients of Equality Health Network pediatric primary care practices and local community residents.
"It is important to our healthcare organization to support our family's overall well-being in any way we can," said Rachel Ries, Maryvale Peds Executive Director of Operations. "We are thrilled to partner with Equality Health Foundation to distribute backpacks and school supplies to our patients for the upcoming school year."
"Making sure children get their annual well visit is so important to their health and wellbeing," said Dr. Gagan Singh, Mercy Care Chief Medical Officer. "It's the perfect way to start off the new school year – along with a new backpack – and helps combat the social risk factors that Arizona families face every day."
For more information on Equality Health Foundation and the well-child & back to school dive, please visit https://www.equalityhealthfoundation.org/.
About Equality Health Foundation
Established in 2019, Equality Health Foundation envisions a world of vibrant and inclusive communities where all individuals have the opportunity to live healthy lives. A bold vision like this cannot be accomplished alone and requires extensive collaboration across local communities around the country to make a sustainable and transformative change—a movement for advancing equal health for all. For more information about Equality Health Foundation, visit equalityhealthfoundation.org/ or follow @EQHFoundation on Facebook, @EQHFoundation on Twitter, and @eqhfoundation on LinkedIn.
About Equality Health
Equality Health is a technology-enabled primary care platform that leverages the proven capabilities of value-based payment models to transform healthcare for diverse and often marginalized populations. From predictive modeling to advanced care-tracking tools, utilizing Equality Health's proprietary software, participating PCPs can streamline value-based administration and stay one step ahead of a patient's journey. Equality Health's care model is Medicaid-first in design, partnering with over 3,500
PCPs and 700,000 lives across AZ, TX, TN and LA. Equality Health partners with practices to close care gaps, optimize performance, increase compliance, and improve profitability. Members engage with holistic and personalized programs delivered through the lens of social and cultural needs. Equality Health is revolutionizing how care is delivered by establishing critical linkages with payers, providers, members, and community resources. For more information about Equality Health, visit equalityhealth.com/ or follow @EqualityHealth on Facebook, @EqualityHealth on Twitter, and @EqualityHealth on LinkedIn.
Media Contact
Jennifer Howard
Phone: 480.438.1602
Email: jhoward@evolveprandmarketing.com