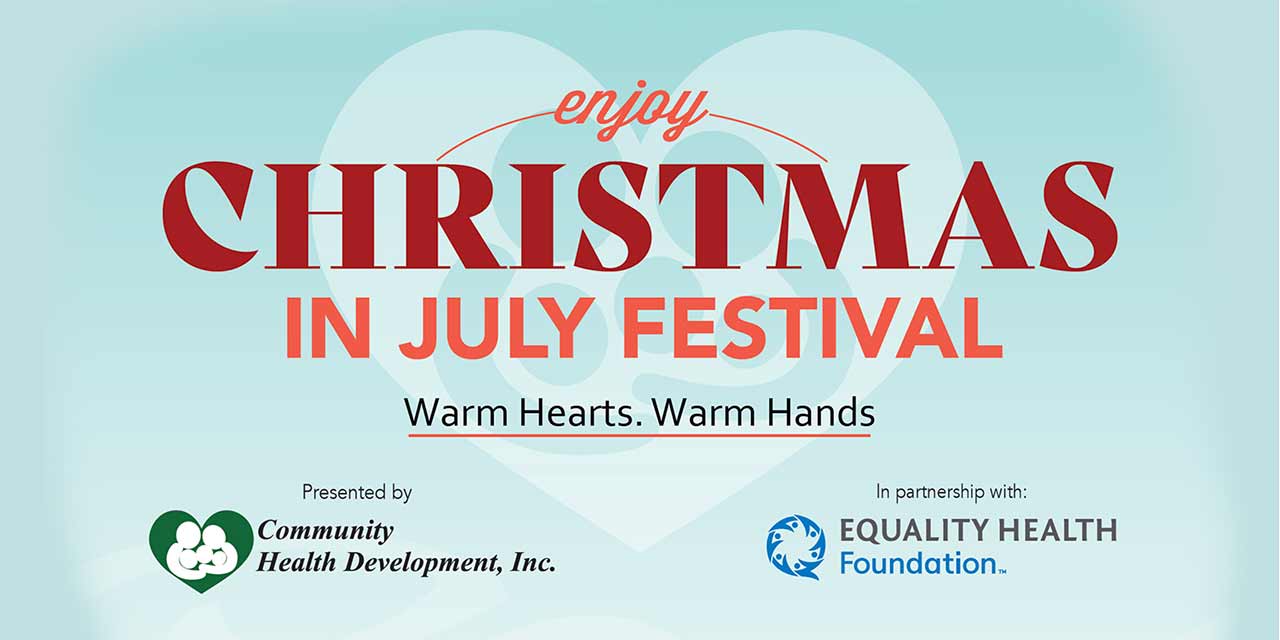 Uvalde Residents Invited to Participate in Christmas in July Festival
Community Health Development, Inc. & Equality Health Foundation Support Uvalde Families
UVALDE, TX – Community Health Development, Inc. is hosting its 2nd annual health festival in partnership with Equality Health Foundation on Saturday, July 8, from 9 a.m. to 2 p.m. The Christmas in July festival will take place at Uvalde County Fairplex, located at 215 Veterans Lane, Uvalde, TX 78801.
This event is designed to bring the community together to facilitate optimal health and well-being. The first 1,000 families will receive a free healthy bag filled with ham, fresh produce, health resources, and toys for the kids while supplies last. The San Antonio Food Bank will be present to hand out fresh produce and the Texas Diaper Bank is going to sponsor the event and provide over $50,000 worth of diapers and essentials for families.
In addition to the healthy bag giveaway, there will be kids activities, health education sessions, medical screenings to include COVID-19 testing and vaccines, flu shots, blood pressure checks, and diabetes testing, as well as community resources and information geared to support families in need.
"We are honored to continue partnering with Community Health Development Inc. to support the health and well-being of Uvalde County residents," said Tomás León, Equality Health Foundation President. "Equality Health Foundation is deeply committed to serving Uvalde families and facilitating continued healing in the community." 
Equality Health Foundation is a nonprofit organization that aims to level the healthcare playing field in culturally diverse and underserved communities. The organization works to expand access to care, accelerate health education, and eliminate healthcare inequalities.
"We invite families in the Uvalde community to participate in a day that promotes long-term health and wellness," said Mayela Castañon, Community Health Development, Inc. CEO. "Through the festival's offerings, services and activities, we intend to foster connection and well-being within the community."
CHDI works continuously and collaboratively to improve the health and well-being of the communities they serve. With a holistic care approach, the organization is committed to providing a variety of patient-centered services and ongoing access to quality health care, including behavioral health services. 
The Christmas in July festival attracts residents and community-based organizations from Uvalde County and beyond. The organization welcomes the participation of sponsors at partnership levels including Health Innovator ($10,000), Health Champion ($5,000), Health Advocate ($2,500), and Health Supporter ($1,500). 
CHDI and Equality Health Foundation, along with Centene Charitable Foundation and Superior HealthPlan continue to invest in the long-term well-being of the Uvalde community. Following the tragedy that occurred at Robb Elementary School, the foundations helped break ground on a $7.9 million state-of-the-art multipurpose community center that will open in 2024, and offer a space for medical care, behavioral health services, youth development resources and college/job preparation.
For more information on the 2nd annual Christmas in July festival, please visit https://www.equalityhealthfoundation.org/enjoy-christmas-in-july-festival-uvalde/. 
About Equality Health Foundation
Established in 2019, Equality Health Foundation envisions a world of vibrant and inclusive communities where all individuals have the opportunity to live healthy lives. A bold vision like this cannot be accomplished alone and requires extensive collaboration across local communities around the country to make a sustainable and transformative change—a movement for advancing equal health for all.
About Community Health Development, Inc
Community Health Development, Inc. was founded in 1983 to increase access to primary health care services for the people of Uvalde, Real, Edwards and Zavala Counties. Their mission is to continuously improve the health and well-being of the communities they serve. They fulfill their mission by providing high quality medical, dental and behavior health care services to all. They provide health care that is relationship-based with an orientation toward the whole person.
Media Contact
Jennifer Howard
Phone: 480.438.1602
Email: jhoward@evolveprandmarketing.com